The Five Dysfunctions of a Team (and how to overcome them)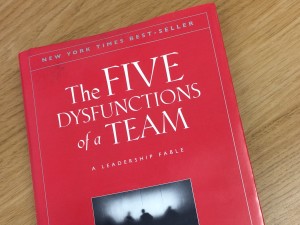 Do teams play a key role in the delivery of results for you at work?  I think we'd struggle to find anyone who wouldn't answer yes to that question.  That's why we spend a lot of our time working with teams to improve their effectiveness.
Team-building has long been significant to the work delivered by HR and Organisational Development professionals and over the years it has become more and more sophisticated.  Originally focused primarily on developing stronger relationships between team members, team development can also look at the way members interact, share team results and many other aspects.
As you can imagine, there is a lot of writing and research in this area so if there is only one book or theory you can read we'd recommend The Five Dysfunctions of a Team by Patrick Lencioni.
In The Five Dysfunctions of a Team, Lencioni uses a fable to bring his theory to life in a very accessible way.  He looks at a team in Silicon Valley and the role of Kathryn, new CEO to a firm facing major team problems.  Kathryn takes her team off-site to look at how the five dysfunctions are affecting the way they work together.  Understanding their behaviours and the effect they have on the working environment enables them to become a much stronger, more successful team.
| | |
| --- | --- |
| What are the dysfunctions? | How can you use the model? |
| 1. Absence of Trust | Encourage individuals to show their vulnerability |
| 2. Fear of Conflict | Address artificial harmony |
| 3. Lack of Commitment | Tackle any ambiguity within the team |
| 4. Avoidance of Accountability | Raise low standards |
| 5. Inattention to Results | Ensure everyone puts the team before personal status and ego |
Can you identify where your team may have issues?  We recommend giving the book a read – it will help you work through dysfunctions within your own organisation.  Although Lencioni describes his model as 'five dysfunctions', he makes a point that they are not isolated issues but interrelated.  He shows it in a pyramid with 'absence of trust' at the base, as overcoming one of the higher dysfunctions would require those beneath it to be conquered first.
Note: Lencioni is the founder and CEO of The Table Group – a firm that provides consulting services to help organisations resolve the issues they face.  He has been publishing his thoughts in this field since 1998 and has presented his work to millions worldwide at conferences and in his best-selling books.