Personal Journeys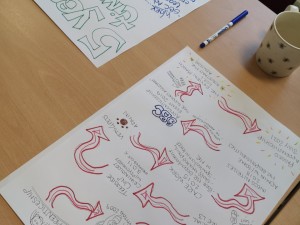 There's a neat little exercise we use a lot here at C&T towers which can bring a whole range of benefits to a group – we call it Personal Journeys.
We ask people to spend some time, on their own (although we've noticed over the years how difficult it is not to start chatting about this topic, even with complete strangers) to reflect on key milestones, people, events, influences, books or anything else which shaped who and where they are today. We usually ask them to draw a representation of this journey in a picture in order to be able to share with others in their group.
It is a simple exercise but it is always illuminating, always good fun (hey, who doesn't love to get the coloured pens out?) and it makes a difference. We notice how much people enjoy talking about themselves and being listened to, even in groups where there are tensions or perhaps outright conflict.
The exercise helps to;
1. Increase Self-awareness.
Drawing and describing our personal/life journey helps us understand the events and people that have been part of, and impacted on our lives. Considering how they have influenced who we are increases our self-awareness (central to improving our emotional intelligence).
2. Develop a growth mindset.
Understanding we aren't fixed in who we are and how we behave comes through seeing that our behaviours are shaped by experiences, people and events, not just our DNA.
3. Develop connectedness and increase trust.
Developing connections with others relies on us sharing who we are and what affects our behaviour. Drawing a life map helps us explain this to others and sharing it builds greater connections and trust between people and groups.
4. Develop dialogue.
By using a personal journey exercise in a team or group setting we help people learn to be curious and to express themselves. It develops a greater level of dialogue that fosters more honest and open conversations in an organisation
This exercise brings something to us too. Apart from the fact that it is always fascinating to hear about the path people have followed, seeing how people bounce back from set-backs, change course in the face of adversity and discover whole new opportunities across their lives really helps put things in perspective – it seems there are no dead ends.
So why not try and get some of these benefits for yourself? Start by spending half an hour reflecting on your personal journey to date – what got you here, what can you learn, what lessons can you take in to your current life?
And if we've sparked your interest to understand more, why not drop us a line to see how we can bring those benefits to you and your teams?