Keep calm….and choose the right playlist!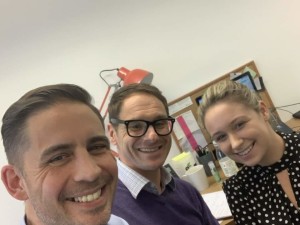 We all know that music can be uplifting and inspirational, and these are two things we could definitely do with more of at times like these.  Whether you are going about business in your usual location or adjusting to working from home, the right auditory climate could really help to boost your mood and your productivity.
At Change & Transformation we've got three of us in the Fusion Hive office in Stockton today and to drive our day we've come up with the motivational playlist challenge.  It has worked for us so we thought we would share our top tunes for guaranteeing a smile.
Michael:
1. Eels – Mr E's Beautiful Blues: I defy anyone to listen to this and not think of summer. And ice cream. You're welcome.
2. Hanson – MMMBop: One of those very guilty pleasures, but to hear young men singing so joyously about goodness knows what always makes me happy. Wonder if they can still reach those high notes?
3. N-Trance – Set You Free: The soundtrack of the traffic jam trying to get into Glastonbury 2004, made all the more fun singing it out of a sunroof (don't try this at home…)
4. The Doors – LA Woman: Always helped to conjure up more exciting imagery when looking out at the Hartlepool drizzle, and gave me the chance to pretend I was Jim Morrison whenever a hairbrush was to hand.
Ollie:
1. Jackie Wilson – Reet Petite: As Ollie never notices what song is playing and how many times he's left the same CD going round on repeat we thought we could just have this classic on three times and he'd be happy…all together now – woa-oh, oh, oh, oh…
Courtney:
1. Klingande- Jubel: I have to admit to having never heard of this one, but our youth correspondent and newest member of the team assures me it's a banger and listening to it takes her straight back to her most recent holiday
2. Tones & I – Dance Monkey: Irresistible. Instant. Fun. Silly dance-inducing. Possibly annoying, but hey, that's part of the charm right?
3. The Killers- Mr Brightside: Courtney is due to see these guys in the summer and is primed to sing this loud and proud as soon as THAT guitar line kicks in
And if these don't quite float your boat maybe check out the tune that Laura is currently obsessed with – the hilarious Seagulls (Stop It Now) – though you need to watch the video to appreciate it fully!
Hopefully this compilation will encourage you to think about what songs you might want to line up in order to give you the most positive workday possible.   Share them with us and let's get everyone working to the sounds that get them in the zone – however controversial or 'guilty pleasure' they may be!
Our top tips for making a play list which counts…;
Take the time to stop and think – don't rush. By picking out the most relevant songs you will be taken back to times you were happy and were feeling positive, which can really help your current mood too!
Make the choices that will really reflect who you are and what you want to achieve in the task – even if it's just putting our playlist to shame with your great alternatives it's crucial that you know what your ultimate goal is
Commit to the songs that are important to you and stand behind them even if people raise an eyebrow – this helps to build knowledge, trust and support with the people you work with
Review the finished product and see how it reflects similarities and differences that make groups of people collaborate effectively and deliver great result