An Interview with Bianca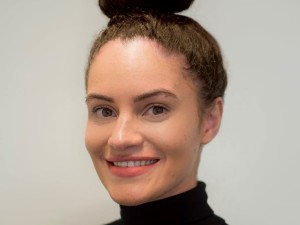 Bianca is our Admin and Operations Executive and was with us in 2018 and 2019 before finding a new adventure. She must have missed us and our clients though as she came back to her role here in 2022 and we've loved having her back!
Let's see what she has to say in our latest 'an interview with…' series.
Hey Bianca, thanks for joining us in our latest series! It's great to get to know our team and hear more about what they do in the business. So, how are you?

I'm really good thanks. The lighter nights are here which has boosted my mood recently and the countdown to summer is on!

You're the person behind many of our projects, but for the clients who haven't met you, could you tell us a bit about yourself?

It's so difficult to talk about yourself, isn't it?! In short, I'm the admin & operations here at C&T and I've been in an admin based role for most of my working life, so I'd like to think I provide our clients with a high standard service with a personable approach. Outside of work, I generally live a low-key lifestyle, I love to binge-watch programmes and doing a bit of online shopping. Obviously, I enjoy spending time with my husband, family and friends – but I think that goes without saying! I'm also partial to life's little luxuries like spa days, staycations, and holidays.

And what does a typical day at Change and Transformation look like for you?

Firstly, and most importantly, I choose my playlist for the day and get my snacks out and put them out on my desk. Once I'm settled at my desk I'll have a check through my emails and respond to anything that needs an immediate response. To ease myself into the day I'll take 5-10 minutes scrolling through LinkedIn and reading any relevant articles, I'll then share any of our C&T posts to my personal feed.
After that I'll have a look on my whiteboard to see what's on my to-do list, prioritise my tasks and start tackling them, which varies week to week. I'll generally spend my working day responding to emails/enquiries, preparing content and materials for upcoming workshops, creating outputs from any previous sessions, managing the diaries and I'm also in the process of updating our course content based on client feedback and any new knowledge or thoughts that the team has as we strive to constantly improve. When we're not talking about work, don't judge us but we love a gossip around reality TV!

You worked with us in the past and then came back to C&T, what made you decide to come back to your role here?

Unfortunately, I wasn't getting what I wanted from my previous role. I was in sales, which isn't my strong point at all, and it just didn't suit my strengths and preferences so when the opportunity to come back to C&T came up, I couldn't say no! I think having the break and getting to know myself, my working style and my capabilities really helped me to establish the type of work I enjoy doing which is important. We spend around 7-8 hours a day at work, you need to enjoy what you're doing.

As Admin and Operations Executive at C&T you're very involved with the work our team does and communicating with our clients. Within your time here what's been the most interesting work you've been involved in?

I don't think I could pick a specific project to be honest! I love hearing what everyone has to say and share, we work with a wide variety of clients and sectors, it's amazing to hear from different people as they all have their own journeys, challenges and successes and it can be quite eye opening. I also love sessions that involve an activity such as TetraMap because everyone enjoys them and has such a laugh!

You're the one that keeps the whole team organised! Have you got any tips on organisation?

My first tip would be to find a method that works for you and stick to it. By that I mean, if you're working away from your desk most of the time, having notes on a pad on a desk somewhere isn't going to help you – because you don't know when the next time that you're going to see that notepad is going to be. Other than that, I think it can be quite difficult to become organised, it's something that takes work, if you're not naturally that way inclined. It's all about prioritisation and understanding the context of the things on your to do list, spending 10 minutes a day figuring out what is urgent and important will set you up for the day as you'll then be able to delegate your time to what you really need to achieve.
Blocking out time in your day can really help, you'd set an hour aside for a meeting so why wouldn't you set an hour aside to focus on one particular task? Say for example you need to finish preparing a presentation for the next morning, block out an hour of your working day to dedicate solely to that piece of work. Not only will you'll finish the piece of work, but you will manage to achieve so much more as you can then move on to other things in a better headspace knowing you've completed the most urgent and important thing on your list.
And finally, what's your goal for 2023?

Workwise, I'd really like to help continue to build and improve the quality of our work – the team has such much knowledge and experience between them it needs to be showcased! Personally, my main priority for this year is health and well-being overall, as cliché as it sounds! I've been calling my goal for this year 'fit for 30', as I'm turning 30 in June and for some reason the thought of turning 30 really made me want to take my health and well-being more seriously. I obviously intent to carry it on past my birthday, so hopefully by the end of the year I'll see a real difference in myself.

Thanks so much for sharing your thoughts with us!

Check out our socials to keep up to date with what we're up to.
Facebook
Instagram
LinkedIn
Twitter