8 tips to fast track your management development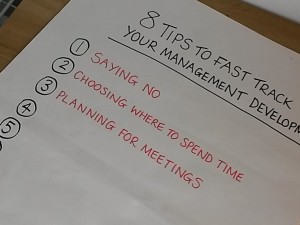 A few months back we held a review session with the group of managers who attended our Leadership Fast Track course back in 2016.  The catch up was not only useful for them, but gave us further insight into how the course had helped them back at the office.
Our class of 2016 told us they have been doing the following things differently since completing the course:
Saying no – it sounds simple, but is difficult to do sometimes.
Choosing where they spend their time (more consciously and proactively).
Planning for meetings.
Taking lunch breaks (and other methods to block out diary and create some more resilience and thinking time).
Being more disciplined in what they focus their energy on and prioritising.
Trying to become more assertive in team meetings.
Getting people below them in the organisation to take more responsibility, to propose solutions and to agree actions.
Speaking up more clearly with their managers and peers.
360 degree feedback (confidential, anonymous feedback from your team) is also included and participants said it was the most challenging and eye-opening aspect of the course.  They all left with a personalised action plan detailing their next steps.
The six-day course covers highly-relevant and problematic challenges that managers face and provides them with tried and tested solutions for dealing with them.  Without giving any spoilers, we cover motivation styles, leadership styles, prioritisation and we also talk about monkeys (we promise this is more relevant than it sounds!)
The transformation of working styles from just six days is quite remarkable – and the effects are clearly long-lasting.  Our next Fast Track course starts in October, if you think you or someone you know could benefit from joining us get in touch for a chat, we'd love to hear from you!